Opening hours, prices & security
Rent a boat in the Salzkammergut
Season

Period

Opening hours

preseason

24.06.2022 – 26.06.2022

27.06.2022 – 30.06.2022

open from 10:00 a.m

open from 13 p.m

Season

1.7. to 11.9.2022

Every day from 10 a.m

Postseason
12.09.2022 – 15.09.2022
open from 10 p.m
boat type
1 hour / boat
0,5 hours / boat
electric boat / max. 4 people
€ 21, -
€ 15, -
Electric boat comfort
with sunbathing area & bathing ladder / max. 4 people.
€ 25, -
€ 17, -
pedal boat / max. 4 people
€ 17, -
€ 11, -

Pedal boat with slide

/ max. 4 people
€ 19, -
€ 13, -
SUP
€ 14, -
€ 9, -
Electric boats, pedal boats & SUP's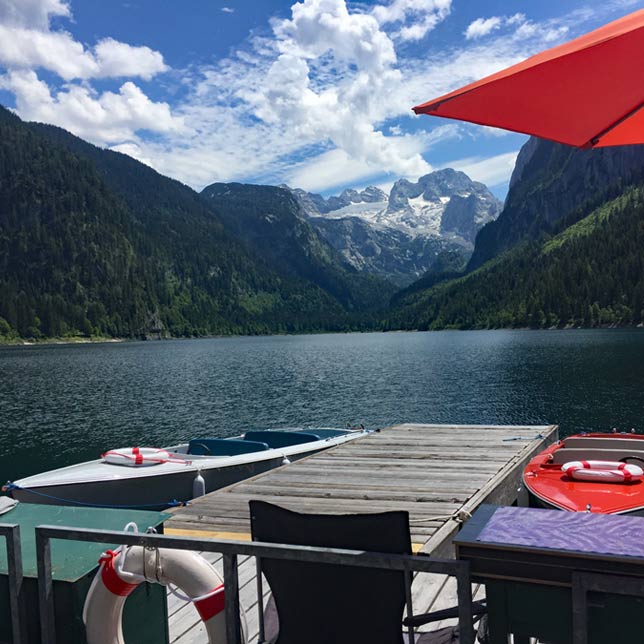 The highlight of the Gosausee fleet are our comfort boats. With a large sunbathing area and the fixed bathing ladder at the stern, nothing stands in the way of water fun.
Unfortunately, it is not possible to reserve the e-boats in advance.
If you have any questions, simply contact us. We will answer your request as soon as possible.
Or you take a pedal boat, for swimming, for pedaling or just to relax.
Great fun for the whole family is our pedal boat with a slide, where you can slide straight from the boat into the crystal-clear Lake Gosau.
Enjoy a short break with a boat trip on a unique lake in the Salzkammergut, undeveloped and almost natural, the Gosausee.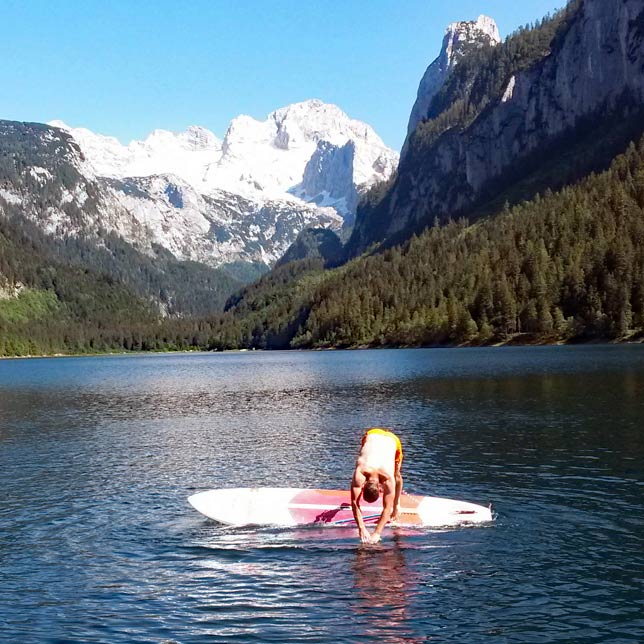 Our SUPs are an experience of a special kind. Paddle across the lake with our Hardboard Stand Up Paddles directly towards the mighty backdrop of the Dachstein massif.
If you haven't tried it yet: no problem, because of the very calm water of the Gosausee this is child's play. Whether it's a workout or just relaxing, there's something for everyone here.
A little tip: Since it is not possible to drive directly to the lake shore by car, you can rent SUPs from us without having to carry them around for a long time (inflatable SUP + paddle + air pump,...). Just borrow it, paddle as long as you like, and give it back.
The launching of non-company watercraft and water sports equipment is expressly prohibited in the area of ​​the pier.
Mooring is only permitted at the landing stage and strictly forbidden at all other places due to the rugged rocks.
The distance of 20 meters (4 times the boat length) to the shore and to the other boats must not be undercut.
Since the e-boats can only go forward, these points must be observed under all circumstances.
Since the weather in the mountains can change very quickly, the staff must be obeyed in every way.
When the electric motor is switched off, the steering reacts extremely sluggishly.
The maximum number of people per boat must not be exceeded